Jessica and Patrick – March 20th, 2010- Tenroc
Elite Events Blog
Jessica couldn't wait to have Patrick back home and become his wife. During the whole planning process Jessica wanted to make sure there where elements of Patrick through out. From the food to the setup of the ceremony. I felt like Patrick was there even thou he was truly on the other side of the world. I had heard so much about Patrick over this past year. I felt like I already knew him.
Jessica choose shades of blue for her colors and had the most gorgeous linens from Platinum Linens. With the deep Blue Lamour and the sheer Ivory Overlay, it was simply breath taking.
We had so much fun. I wish we could do it again!  A cold front came in and it was 40 degrees outside, but we didn't let that slow us down. Once they said their I Do's the party was on.
Jessica's dad went with her during her Bridal Pictures. In all of my 16 years I have never had a father go with his daughter. Dean Coleman loves his family and loves his daughter. There wasn't a dry eye in the place after his toast.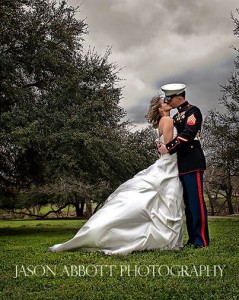 I hope Jessica and Patrick stays in touch. Right after the wedding they left the state and had to go back. Jessica told me that Patrick will have to leave and go back to Iraq soon. I can't imagine being a new bride and not seeing your husband for a whole year! I will pray it will be a fast year for them both. We are going to adopt Patrick and make sure he gets plenty of care packages from us. Thanks, Patrick for all you do. Be safe and hurry home. And thank you for letting us be apart of your special day.
Posted on Saturday, March 20th, 2010 | Categories: Weddings